Teton Conservation District, Wyoming Lidar
DOI
:
https://doi.org/10.5069/G9F769GN
OT Collection ID
: OT.062011.26912.1
OT Collection Name
: Teton Conservation District, Wyoming Lidar
Short Name
: TCDWY
Collection Platform
: Airborne Lidar
Metadata Download:
Collection Overview
: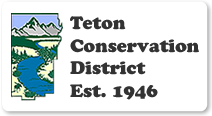 This dataset was collected during the summer of 2008 by Sanborn on behalf of the
Teton Conservation District
. The project mapped 141 square miles of area within the Snake River Range and the Teton National Forest. The area covered is west of the Snake River to the Bridger-Teton National Forest boundary, and from Teton Village to Red Top Meadows. Extensive information was collected, including vegetation data for Wildland Urban Interface projects and floodplain mapping.
Dataset Acknowledgement
: Data Provided by the Teton Conservation District.
Dataset Citation
: Teton Conservation District, Wyoming Lidar. Distributed by OpenTopography. https://doi.org/10.5069/G9F769GN . Accessed: 2023-10-02
Use License
: Not Provided
Dataset Keywords
: Jackson Hole, Teton Pass, Wyoming, Wilson, lidar
Survey Date
: 08/13/2008 - 08/18/2008
Publication Date
: 06/01/2011
Data Provider and Roles:
Funder
Total number of points
: 955,085,925 pts
Area
: 365 km
2
Point Density
: 2.62 pts/m
2
Classifications:
| | |
| --- | --- |
| Class 1 - Unclassified | 583,649,815 |
| Class 2 - Ground | 371,066,902 |
| Class 7 - Low Point (low noise) | 125,392 |
| Class 12 - Overlap/Reserved | 243,816 |
Raster Resolution
: 1 meter
Coordinate System
:
Horizontal: UTM Zone 12N NAD83 Meters [EPSG: 26912]
Vertical: NAVD88 [EPSG: 5703]
Units
: meter
Survey Report
:
Reports
LAS Validation Data Report
:
TCDWY.html
Tile index in shapefile format
:
Download
Dataset Extent in KMZ format
:
Download
Dataset Spatial Bounds
: North: 43.631567° South: 43.304104° East: -110.782438° West: -110.972947°