Utah Geological Survey LiDAR
DOI
:
https://doi.org/10.5069/G90C4SPQ
OT Collection ID
: OT.042013.26912.1
OT Collection Name
: Utah Geological Survey LiDAR
Short Name
: UGS_LIDAR
Collection Platform
: Airborne Lidar
Metadata Download:
Collection Overview
: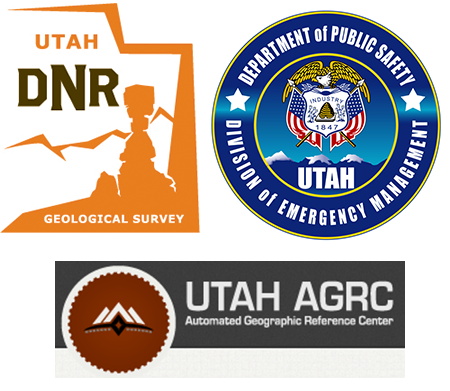 The Utah Geological Survey (UGS) as part of its mission to provide timely scientific information about Utah's geologic environment, resources, and hazards, acquires Lidar data with its partners in support of various geologic mapping and research projects. In 2011, the UGS and partners acquired approximately 4927 square kilometers of 1 meter Lidar data over the Cedar/Parowan Valley, Great Salt Lake shoreline/wetlands, Hurricane fault zone, Lowry Water, Ogden Valley, and North Ogden areas of Utah. The datasets include raw LAS, LAS, DEM, DSM, and metadata (includes XML metadata, project tile indexes, and area completion reports) files. The datasets acquired by the UGS and its partners are in the public domain and can be freely distributed with proper credit to the UGS and its partners.
These datasets were funded by the Utah Geological Survey, with the exception of the Great Salt Lake area, which was funded by the U.S. Environmental Protection Agency (grant no. CD-96811101-0) and the UGS, and the North Ogden area, which was funded by the Utah Division of Emergency Management, Floodplain Management Program.
Dataset Acknowledgement
: Lidar data provided by the
Utah Geological Survey
and its partners. This release is intended as a data repository for information gathered in support of various Utah Geological Survey projects. The data are presented as received from Utah State University, LASSI Service Center and do not necessarily conform to Utah Geological Survey technical, editorial, or policy standards; this should be considered by an individual planning to take action based on the contents of this release. The Utah Department of Natural Resources, Utah Geological Survey, makes no warranty, expressed or implied, regarding its suitability for a particular use. The Utah Department of Natural Resources, Utah Geological Survey, shall not be liable under any circumstances for any direct, indirect, special, incidental, or consequential damages with respect to users of this product.
Dataset Citation
: Utah Geological Survey LiDAR. Distributed by OpenTopography. https://doi.org/10.5069/G90C4SPQ . Accessed: 2023-03-27
Use License
: Not Provided
Dataset Keywords
: Utah, Box Elder, Weber, Davis, Salt Lake, Tooele, Iron, Washington, Sanpete, Emery, Cache, lidar
Survey Date
: 09/23/2011 - 10/27/2011
Publication Date
: 05/09/2013
Data Provider and Roles:
Funders
Total number of points
: 8,955,883,062 pts
Area
: 4,696 km
2
Point Density
: 1.91 pts/m
2
Classifications:
| | |
| --- | --- |
| Class 1 - Unclassified | 12,397,941 |
| Class 2 - Ground | 4,195,789,599 |
| Class 3 - Low Vegetation | 481,393,356 |
| Class 4 - Medium Vegetation | 241,741,005 |
| Class 5 - High Vegetation | 201,772,499 |
| Class 6 - Building | 31,057,703 |
| Class 7 - Low Point (low noise) | 3,227,267 |
| Class 9 - Water | 111,335,763 |
| Class 10 - Rail | 11,579,836 |
| Class 12 - Overlap/Reserved | 154,143,282 |
| Class 14 - Wire - Conductor | 100,309,382 |
| Class 17 - Bridge Deck | 530,293 |
| Class 18 - High Noise | 2,581,328,106 |
| Class 19 - Reserved | 541,727,993 |
| Class 20 - Reserved | 143,517,273 |
| Class 21 - Reserved | 117,036,403 |
| Class 22 - Reserved | 16,279,615 |
| Class 23 - Reserved | 1,563,196 |
| Class 24 - Reserved | 1 |
| Class 25 - Reserved | 9,135,986 |
| Class 26 - Reserved | 16,563 |
Coordinate System
:
Horizontal: UTM Zone 12N NAD83 (CORS96) [EPSG: 26912]
Vertical: NAVD88 (GEOID 09) [EPSG: 5703]
Units
: meter
Survey Report
:
UGS_LIDAR_report.zip
LAS Validation Data Report
:
UGS_LIDAR.html
Tile index in shapefile format
:
Download
Dataset Extent in KMZ format
:
Download
Dataset Spatial Bounds
: North: 41.8415613280001° South: 36.991951258° East: -111.237339912° West: -113.317505389°