USBR Upper Columbia River Basin West
DOI
:
https://doi.org/10.5069/G9JM27JX
OT Collection ID
: OT.032012.26910.1
OT Collection Name
: USBR Upper Columbia River Basin West
Short Name
: USBR_UCRB_West
Collection Platform
: Airborne Lidar
Metadata Download:
Collection Overview
: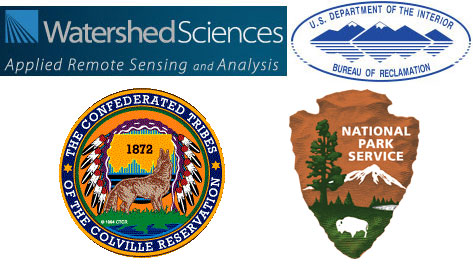 These lidar data were collected on October 12 to November 9, 2006 by
Watershed Sciences Incorporated
for the Puget Sound Lidar Consortium, with funding from the
US Bureau of Reclamation
. The survey areas cover eastern portions of the the Methow River and Wenatchee River in Washington State. The study areas total ~360 square kilometers. These lidar were acquired for all the areas identified for the purpose of stream channel assessment and potential stream restoration design.
Dataset Acknowledgement
: Upper & Lower Okanogan River, Methow River, Lake Roosevelt, Wentachee River and John Day River. Prepared by Watershed Sciences, Inc for PLSC, USBR and contributing partners, 2006
Dataset Citation
: USBR Upper Columbia River Basin West. Distributed by OpenTopography. https://doi.org/10.5069/G9JM27JX . Accessed: 2023-03-27
Use License
: Not Provided
Dataset Keywords
: Methow River, Wenatchee River, lidar
Survey Date
: 10/12/2006 - 11/09/2006
Publication Date
: 03/09/2012
Data Provider and Roles
:
Funder
Collector
Total number of points
: 3,467,813,766 pts
Area
: 360 km
2
Point Density
: 9.63 pts/m
2
Classifications:
| | |
| --- | --- |
| Class 1 - Unclassified | 2,548,479,288 |
| Class 2 - Ground | 919,334,478 |
Coordinate System
:
Horizontal: UTM Zone 10N NAD83 (CORS96) [EPSG: 26910]
Vertical: NAVD88 (GEOID 03) [EPSG: 5703]
Units
: meter
Survey Report
:
USBR Upper Columbia River Basin.zip
LAS Validation Data Report
:
USBR_UCRB_West.html
Tile index in shapefile format
:
Download
Dataset Extent in KMZ format
:
Download
Dataset Spatial Bounds
: North: 48.819860290725° South: 47.4560784713071° East: -120.015252647254° West: -120.964871021445°